Start a Workplace Campaign
---
Across our corner of Connecticut, hundreds of local workplaces – from the largest corporate headquarters to the community-centered family businesses – run United Way campaigns because they understand how every pledge and commitment helps create a better, stronger community for all of us.
United Way makes it easy to get started. We provide communication materials, straightforward pledging and payroll deduction, turn-key engagement opportunities, and United Way staff support.
Below you'll find a variety of resources and materials to support your campaign this year. If you have any questions, please contact Ebony Jeffress via email.
LET'S GET YOUR WHOLE WORKPLACE INVOLVED
Workplace Giving: United Way Makes It Flexible, Meaningful, and Fun
We want to help local businesses and workplaces make a difference for the people who work hard to make ends meet in our corner of Connecticut. 
United Way of Coastal and Western Connecticut offers workplace-giving solutions that are as comprehensive or as simple as your needs. See what we have to offer and we can work with you to create a custom solution that works best for you and your team.
Online giving is easy and straightforward by using our Give at Work digital platform as a solution that allows employees to contribute to their favorite charities and causes through volunteering, matching, and online donations. 
Payroll deduction also makes giving easy. Using our Give At Work digital platform or a hard copy employee pledge form, you tell us how much you'd like to give, and your employer then sets aside a portion of your earnings from each pay period to donate to United Way.
If you're interested in running a workplace campaign or learning more about United Way, please email us.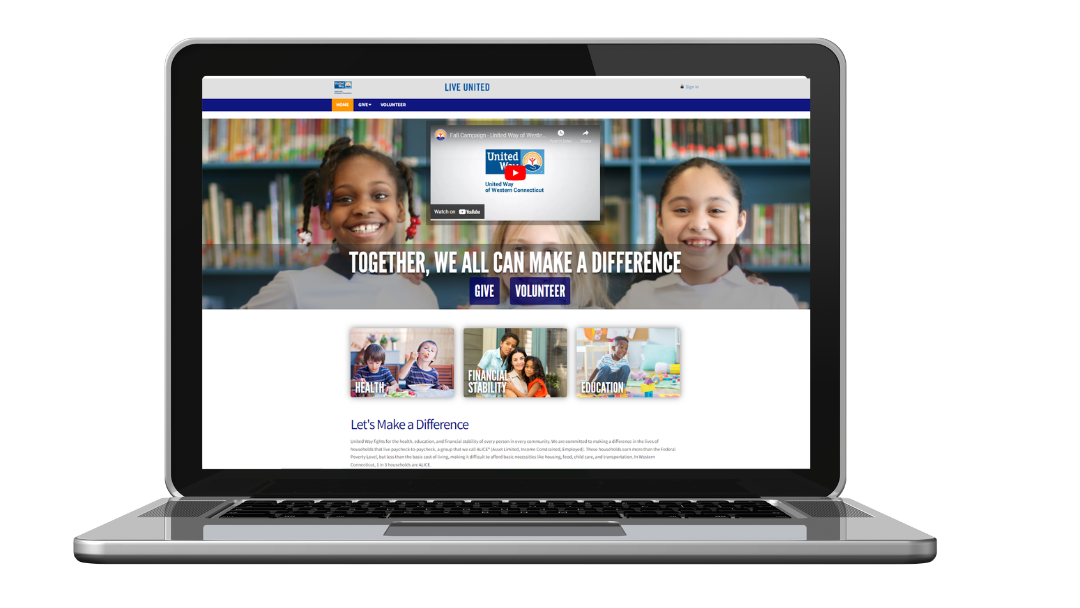 Matching gifts increase your donation. Many employers match their employees' gifts, some by as much as 100%. For matching gifts:
1. Confirm - Ask your HR contact or your employer's Charitable Giving department if they offer gift matching, or check your workplace intranet.
2. Complete - Print or request your company's matching gift form, or submit via your workplace intranet. Review the program guidelines to see whether United Way is eligible. Note our name and address listed below, the date and amount of your gift, and remember to sign the form if required.
3. Submit - Forward your completed form to us and we'll take it from there. If you're not using a workplace intranet, you can email us at MatchingGifts@uwwesternct.org
You can mail your completed form/paperwork to:
United Way of Coastal and Western Connecticut
Matching Gifts
301 Main St., Suite 2-5
Danbury, CT  06810
We'll let your employer know that we received your gift and the company will send its matching donation directly to United Way of Western Connecticut. Please note that we are unable to confirm your donation with your employer if you gave anonymously.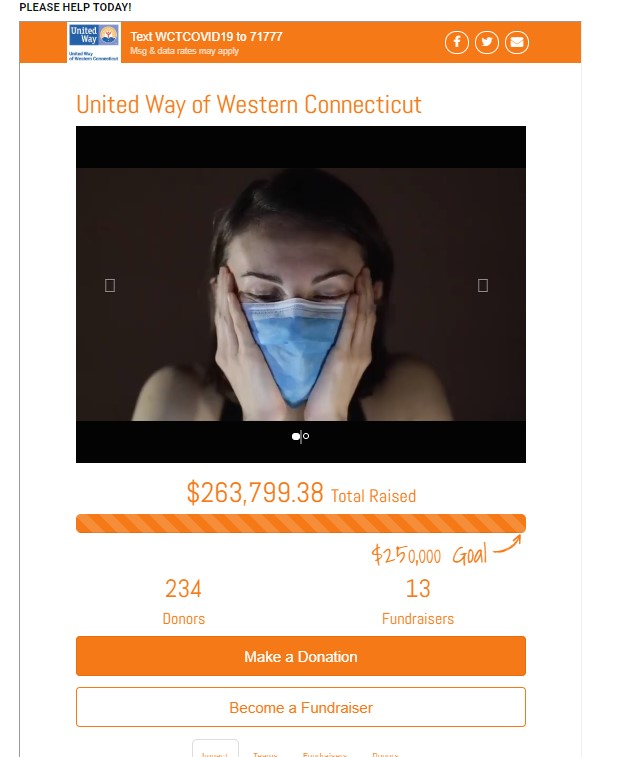 We can also set up a single fundraiser for your employees through Mobile Cause. This is perfect for when you want to do a drive to support one of United Way's community initiatives, like collecting donations for the Food Collaboratives or the ALICE Enrichment Fund, which pays for out-of-school activities for low-income children. Or you can set up campaigns for one-time giving events, like Giving Tuesday, or a special day of giving for your company, to celebrate a Founder's Day Anniversary, for example.
We also can host an online auction and virtual events with ticketing for your company fundraising.