Earlier this month, Stamford Cradle to Career and United Way of Western Connecticut hosted an information session promoting their new Stamford Food for Thought Campaign. This initiative is aimed at addressing the importance of free school meals in Stamford and expanding awareness of essential benefits available to the community – specifically, SNAP (Supplemental Nutrition Assistance Program) and HUSKY Insurance.  
Data shared by the Food Policy team showed that there has been a 53% increase in meals served to Stamford Public School students since the beginning of the COVID-19 Pandemic. School meals in Stamford were made free to all students through the Community Eligibility Provision which provides food in school districts where a significant number of households are identified as low-income. The information proved a direct correlation between access to free school meals and an increase in food security throughout the community, equity among the student population, and more affordable time and cost values for ALICE® (Asset Limited, Income Constrained, Employed) households among other benefits leading to overall student success.  
Tida Infahsaeng, Food Policy Manager, expressed the importance of this campaign saying "There is a large and widespread need for all students to receive free food in school. Stamford Public School students need guaranteed food security beyond the four-year Community Eligibility Provision meals they currently receive." 
Part of the push comes with new eligibility guidelines for SNAP in our state. As of October 1, 2022, the thresholds for SNAP increased. For many, this means they may be eligible now even if they previously were not. See the table below for income requirements.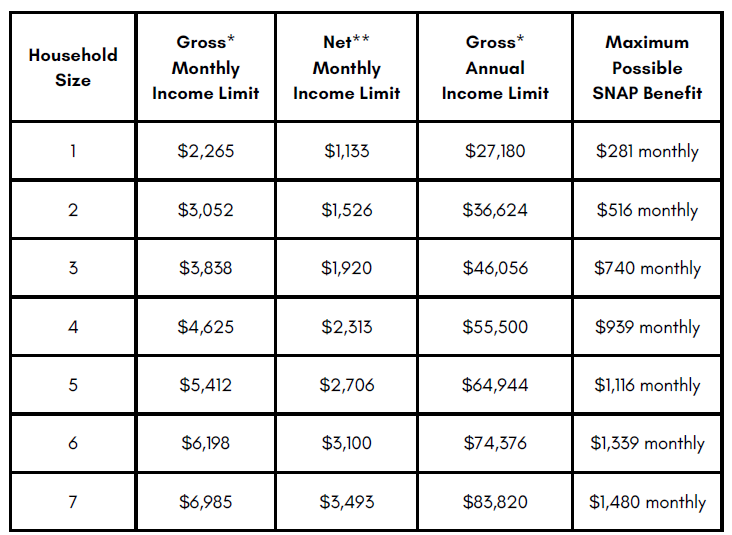 Other speakers at the information session explained the need for parents and guardians to complete the Household Income Survey available to the public. The survey, used to represent the Stamford community with school-aged children, identifies the population of students who could benefit from continued free lunches, reduced pricing on AP testing, and other free or discounted programs. 
Stamford Cradle to Career will host trainings that are focused on SNAP enrollment later this month with resources from local agencies such as End Hunger Connecticut. To sign up, click here.  
To learn more about United Way of Western Connecticut's commitment to food security across Western Connecticut, click here.