Weekday Food Deliveries Demonstrate the Power of Pooling Resources
Thanks to a collaboration between Boehringer Ingelheim, United Way of Western Connecticut, Sodexo, Danbury Public Schools and other community partners, approximately 200 meals were delivered each weekday to low-income housing sites in Danbury between April 9 and May 29. The project shows how businesses, schools, nonprofits, and other community partners can pool resources and quickly change their day-to-day operations to benefit community members in need. In total, approximately 7,000 meals with a value of $40,000 were donated through the program.
It began when stay-at-home orders left Boehringer Ingelheim's cafeteria staff with a few hundred on-site essential Boehringer Ingelheim employees to serve on a daily basis compared to typically a few thousand employees per day prior to the COVID-19 pandemic. Wanting to keep the Sodexo cafeteria workers gainfully employed, Boehringer Ingelheim reached out to United Way to see if they could also somehow fill a need in the community. At the same time, it was becoming quickly apparent that lower-income families were going to face empty refrigerators with their children at home, all day every day, not getting any school meals.
United Way reached out to the Danbury Public Schools to see if there was a way to address a need for food among some of Danbury's struggling families. Kevin Walston, Danbury's Assistant Superintendent of Schools, and Anne Mead, Director of Family, School, and Community Partnerships, realized that some families might have difficulty accessing the "grab-and-go" meals the public schools were providing. Many families at low-income housing sites don't have transportation and are not within walking distance to schools where meals are offered. Their geographic isolation would leave them vulnerable to food insecurity.
Together, the corporations, schools, and United Way developed a plan. Boehringer Ingelheim would donate the food, the Sodexo workers would prepare it, and volunteers recruited by United Way would deliver meals every weekday. At first deliveries were made to the City of Danbury Housing project at Eden Drive and Connecticut Institute for Community's Beaver Street housing project. Deliveries to the City of Danbury housing project at Laurel Gardens were added later. Approximately 200 meals were donated at these housing projects each weekday by more than 60 volunteers until May 29.
"During this difficult time Boehringer Ingelheim was proud to be a part of such a successful partnership, which truly touched our community," said Dr. Wolfgang Baiker, U.S. Country Managing Director and President and CEO, Boehringer Ingelheim USA.  "We value our long-standing partnership with Sodexo and the United Way and look forward to more creative ways that we can collaborate for the betterment of our employees and neighbors."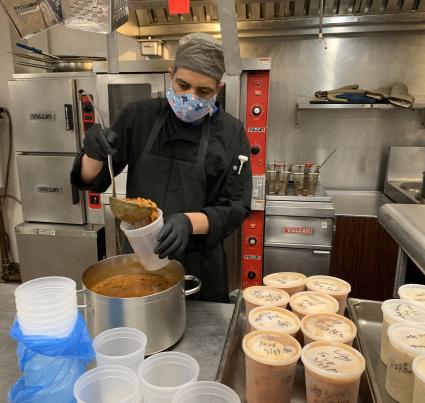 "Food insecurity has been a looming concern for us since the beginning of this pandemic," said Isabel Almeida, President and Chief Operating Office at United Way of Western Connecticut. "We're so glad we were able to work with generous community partners like Boehringer Ingelheim and Sodexo to fill a community need. The volunteers were the final piece of the puzzle and we're so grateful to them for the important work they have done over the past six weeks."
The pandemic and the community's response is at a different juncture and public assistance programs have been increased and are now providing underserved families with additional financial support for food.  Boehringer Ingelheim is also beginning preparation for employees to return to its Ridgefield campus, and as such the joint project ended on May 29.  As things inch their way back to normalcy, everyone who was involved in this project can reflect back and know that they made a difference in the lives of Danbury families who found themselves with hungry children at home during this time of crisis.
For more information about this food delivery project, contact Isabel Almeida, President and Chief Operation Officer at United Way of Western Connecticut at 203-297-6725 or by email.